The American-based Italian bicycle parts brand Silca has launched its first 3D printed bicycle product, a titanium alloy bracket named Mensola.
The 3D printed bracket is compatible with many leading bicycle computers, and is stronger, lighter and more aerodynamic than CNC-processed aluminum equivalent products.
According to reports, Mensola marks the beginning of a wider 3D Printing project for the brand, and some World Tour cycling teams related to this are approaching Silca.
The riding computer bracket can conveniently fix the GPS device to the handlebar or frame of the bicycle when going out, and there are many models and brands for riders to choose from.
Silca's Mensola stent uses 6Al/4V titanium for 3D printing, and according to the brand, the weight of the component is 10-15% lighter than components manufactured by traditional methods. Depending on the model, Mensola weighs only 27 grams.
The strength of the 3D printed mount is 6 to 12 times stronger than the CNC machined aluminum support mount, and compared with the standard mount, it is designed to improve aerodynamic performance.
Allegedly, the brand chose 3D printing to make the bracket because it enables the team to create geometric shapes that were previously unavailable without tool limitations or raw material inventory limitations. Mensola's structural design elements are borrowed from the fields of architecture and aerospace engineering to provide "stressed skin design with internal truss elements".
3D printing also enabled the Silca team to design brackets of various sizes with different panel geometries to improve its compatibility with bicycles and bicycle computers.
Therefore, Silca has developed multiple variants of Mensola, each of which is equipped with different valve stem panels that are compatible with bicycle brand giants (such as Specialized, Bontrager, Enve, etc.). The bracket also provides a series of mounting brackets to ensure compatibility with most leading cycling computer brands.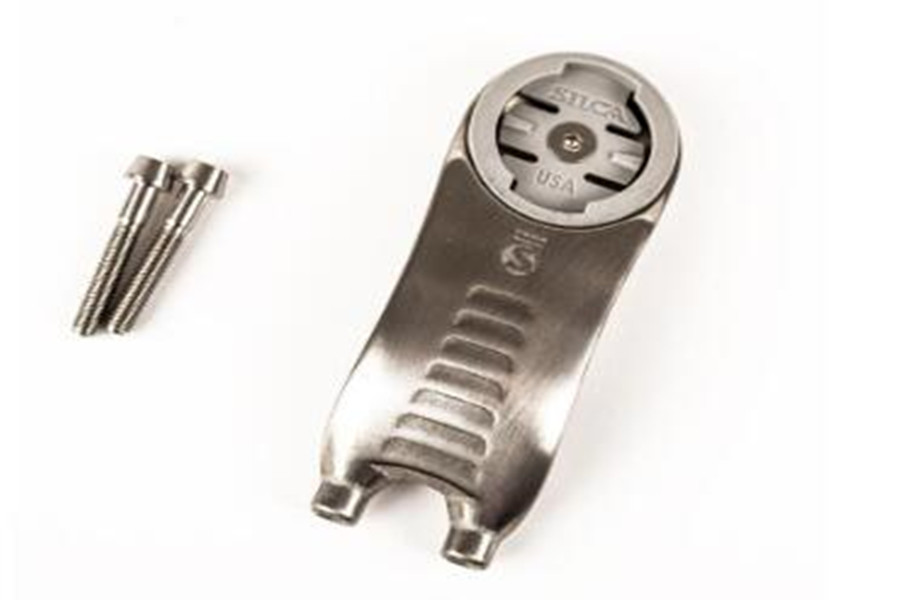 Mensola retails for £175, which is certainly not cheap, and in some cases, its price is higher than the GPS device itself. This is commensurate with Silca's reputation for producing high-quality and durable bicycle products.
Mensola mounts are 3D printed on demand and are compatible with various bicycle and bicycle computer brands.
In recent years, the bicycle industry continues to adopt additive manufacturing technology, and many manufacturers choose 3D printed components to enhance strength and lightweight performance. Titanium is especially an ideal material for making bicycles due to its advantageous strength-to-weight ratio and reusability.
Last year, the global engineering group Sandvik (Sandvik) cooperated with the electric bicycle engineering and design consulting company GSD Global to provide selected OEMs with 3D printing titanium motor nodes for electric bicycles, and 3D metal printing service provider RAM3D and custom Bicycle manufacturer Sturdy Cycles collaborated on 3D printing.
Huhn Cycles, an additive manufacturing mountain bike manufacturer, also used Titanium to design and produce its 3D printed Moorhuhn bikes. This bike won first place in the Formnext Purmundus Challenge last year. It is designed to provide the same stiffness and lightness as carbon mountain bikes, but has the advantage of being recyclable, so it can improve the product life cycle.
Recently, 3D printing technology developer Headmade Materials and 3D printing service bureau Element22 launched a novel 3D printed titanium bicycle pedal on Kickstarter, whose performance has exceeded previous expectations.
Link to this article: The 3D printed bracket is compatible with multiple bicycles
Reprint Statement: If there are no special instructions, all articles on this site are original. Please indicate the source for reprinting:https://www.cncmachiningptj.com/,thanks!
---
PTJ® provides a full range of Custom Precision cnc machining china services.ISO 9001:2015 &AS-9100 certified. 3, 4 and 5-axis rapid precision CNC machining services including milling, sheet metal to customer specifications,Capable of metal & plastic machined parts with +/-0.005 mm tolerance.Secondary services include CNC and conventional grinding, laser cutting,drilling,die casting,sheet metal and stamping.Providing prototypes, full production runs, technical support and full inspection.Serves the automotive, aerospace, mold&fixture,led lighting,medical,bicycle, and consumer electronics industries. On-time delivery.Tell us a little about your project's budget and expected delivery time. We will strategize with you to provide the most cost-effective services to help you reach your target,Welcome to Contact us (

[email protected]

) directly for your new project.