A group of researchers from the University of Western Canada and the University of Trento in Italy have developed a new low-cost method for 3D Printing ceramic structures.
This method uses only affordable FFF 3D printers and materials called polymer-derived ceramics (PDC). Essentially, the ceramic precursor structure can be printed in its polymer state and can be fired in a furnace to obtain high-resolution ceramic parts.
This method may have a significant impact on applications such as high-temperature systems and even bone tissue regeneration.
The ceramic precursor polymer can be shaped in a polymer state and then pyrolyzed to produce different types of ceramics. This technique can be used to manufacture honeycomb ceramics.
Challenges facing ceramic 3D printing
Many of the systems and materials required for ceramic 3D printing are relatively expensive and difficult to operate, limiting access to complex ceramic parts.
PDCs are ceramic materials formed by the pyrolysis of ceramic precursor polymers, providing an alternative way for ceramic 3D printing without many obstacles. These materials can be printed in their more easily processed polymer form before the final post-processing stage. Nevertheless, according to Pearce and his team, there is still a lack of research on integrating FFF 3D printing with PDC.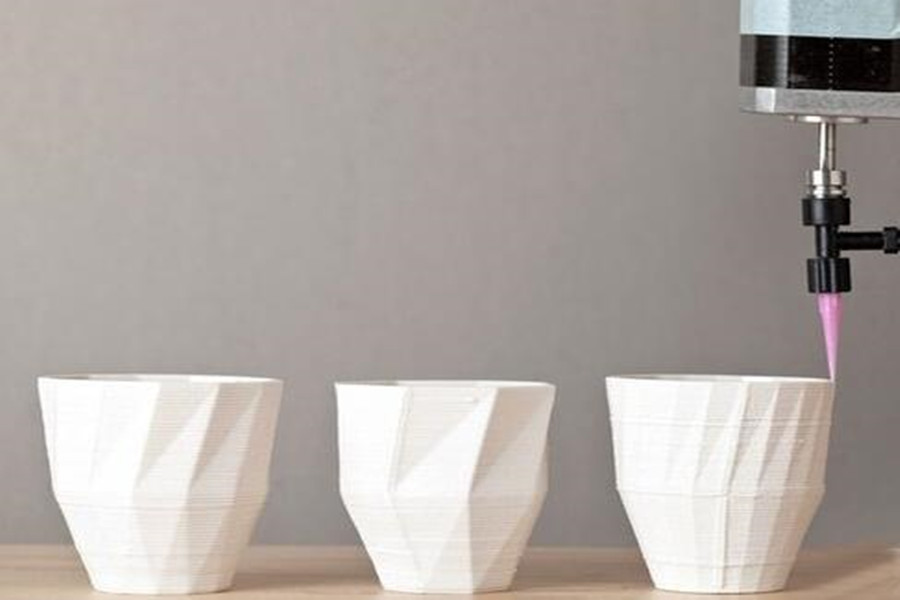 To start the project, the researchers impregnated thermoplastic polyurethane (TPU)-based filaments with pre-ceramic polymers. The resulting impregnated material is then used to 3D print a set of honeycomb structures, which are pyrolyzed to produce fully dense SiOC(N), the final ceramic material.
It was found that the printed ceramic structure can withstand working temperatures of up to 1500°C, and it is made of ready-made materials on the desktop Lulzbot 3D printer. The researchers calculated that they could 3D print these complex ceramic structures at less than 5% of the cost of other methods.
In addition, SiOC(N) components are determined to be biocompatible, which can promote rapid cell adhesion on their surfaces. Early cell activation on the components has even been shown to be adjustable by adjusting the porosity of the material, allowing the team to simulate the geometry of human bone tissue, thereby achieving bone regeneration applications.
In terms of future work, Pearce and his team intend to modify the printing method by adding nanofiller additives or fine-tuning TPU-based filaments. This can extend the possible applications of the technology to use cases such as active filters, catalytic converters, and conductive components.
Link to this article: Successfully cut the cost of ceramic 3D printing by 95%
Reprint Statement: If there are no special instructions, all articles on this site are original. Please indicate the source for reprinting:https://www.cncmachiningptj.com/,thanks!
---
PTJ® provides a full range of Custom Precision cnc machining china services.ISO 9001:2015 &AS-9100 certified. 3, 4 and 5-axis rapid precision CNC machining services including milling, sheet metal to customer specifications,Capable of metal & plastic machined parts with +/-0.005 mm tolerance.Secondary services include CNC and conventional grinding, laser cutting,drilling,die casting,sheet metal and stamping.Providing prototypes, full production runs, technical support and full inspection.Serves the automotive, aerospace, mold&fixture,led lighting,medical,bicycle, and consumer electronics industries. On-time delivery.Tell us a little about your project's budget and expected delivery time. We will strategize with you to provide the most cost-effective services to help you reach your target,Welcome to Contact us (

[email protected]

) directly for your new project.