Every year, approximately 6 million Americans have broken bones and go to a doctor for plaster or fiberglass plaster fixation. After six weeks of keeping the plaster dry and resisting the urge to scratch the skin underneath, the patient returned to their doctor, removed the plaster and threw it in the trash can, and could not use it again. Mohammad Islam, Lining Yao and Carmel Majidi have created a new material system that can change this standard in the field of orthopedics-ExoForm.
Exoform is a compact, customizable and semi-rigid wearable material with self-fusing edges that can be used immediately, adjustable and reusable. It provides a unique ability to specifically adapt to the individual's body without relying on medical professionals. The idea of Exoform originated during the COVID-19 pandemic. It is a mask that can be 3D printed and self-shaped to perfectly fit the wearer. Soon after, the team realized that the material could be used more widely, and created a cast.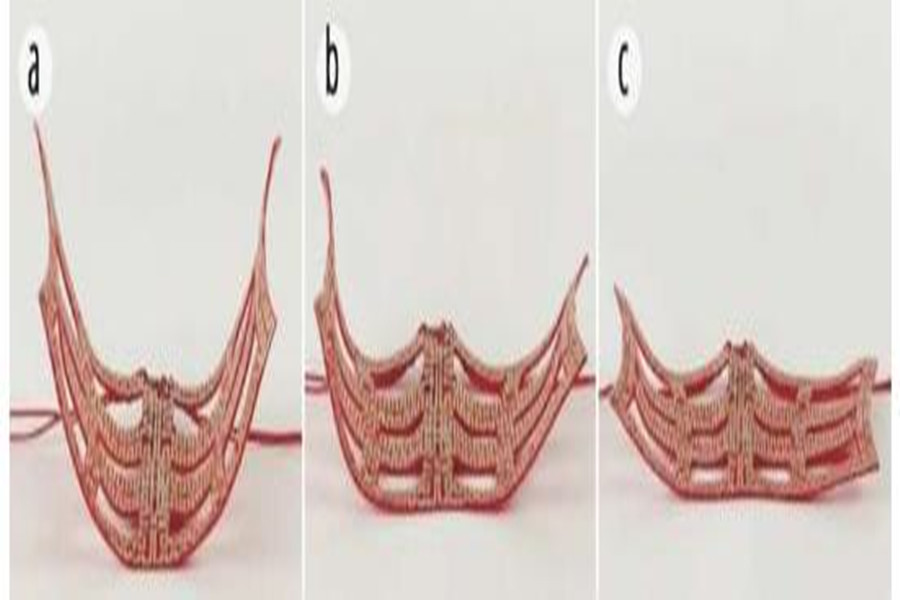 The difference between Exoform castings and the existing orthopedic materials (ie finger splints and wrist straps) in local pharmacies is that it can successfully support various complex body parts and adjust their stiffness throughout the healing process. It is also breathable and can be immersed in water for a more comfortable wearing experience.
Exoform was originally a flat structure and required heating (70-80 degrees Celsius) to form. To protect the wearer from burns, the user must first wrap 3 layers of gauze around the skin where they intend to wear the cast. The casting has a sensing and control system that can trigger a white LED light to indicate when the material is at a safe processing temperature. Once heated, the material forms a standardized shape around the body to initialize a rough fit. Users can then manually carve the material into their own perfect fit. The white LED light will become brighter and darker as the wearable device tightens.
Existing plaster and fiberglass models remain rigid throughout the healing process and limit the user's mobility. This restriction will delay the body's natural healing time. With Exoform, when the body begins to heal, the wearer can remove part of the plaster to loosen the material, thereby increasing mobility and ultimately speeding up the healing time. Once it is completely healed, the user can remove the plaster on his own and start rejecting the material.
With self-fusing edges, any pieces of material removed during the forming and healing process can be re-added by pressing the edges together. This makes reuse possible. Within hours of edge contact, the Exoform parts will automatically fuse into the original flat shape. This flat packaging saves nearly 95% of the volume occupied by assembled castings and is easy to store in case friends or family members need their own castings one day. All in all, the level of accessibility of Exoform means that future wearable devices can be customized to the needs of users without leaving anyone behind.
Link to this article: 3D Printing and self-molding to perfectly fit the wearer's mask
Reprint Statement: If there are no special instructions, all articles on this site are original. Please indicate the source for reprinting:https://www.cncmachiningptj.com/,thanks!
---
PTJ® provides a full range of Custom Precision cnc machining china services.ISO 9001:2015 &AS-9100 certified. 3, 4 and 5-axis rapid precision CNC machining services including milling, sheet metal to customer specifications,Capable of metal & plastic machined parts with +/-0.005 mm tolerance.Secondary services include CNC and conventional grinding, laser cutting,drilling,die casting,sheet metal and stamping.Providing prototypes, full production runs, technical support and full inspection.Serves the automotive, aerospace, mold&fixture,led lighting,medical,bicycle, and consumer electronics industries. On-time delivery.Tell us a little about your project's budget and expected delivery time. We will strategize with you to provide the most cost-effective services to help you reach your target,Welcome to Contact us (

[email protected]

) directly for your new project.